Our day started with a hearty breakfast in the hotel's restaurant and a glance at the morning newspapers.  We then wrapped up warm before setting off for a walk along the canal towpath.
The Nottingham and Beeston canal runs through the city centre and was just a few minutes walk from the Holiday Inn.  Before heading into town we made a short detour to take a look at all the colourful narrowboats moored in the Castle Marina.  It was then a leisurely 20 minute walk to Castle Wharf, the city's vibrant waterfront district and home to the beautiful Canalhouse pub we had eaten lunch in the previous day.
Our plan for the morning was to take a tour of the City of Caves, its starting point seeming very intriguing as it is accessed from the top floor of the Broadmarsh Shopping Centre.  Entrance to the caves is £7.95 but it's possible to purchase a combined ticket which includes the nearby National Justice Museum for £16.  There are over 500 caves in Nottingham dating back to the Dark Ages with some public houses still having access to them today through their beer cellars.
Our one hour tour commenced at 11.00 a.m. and before entering the ancient man made caves, we each popped on a hard hat so that we didn't bump our heads whilst stooping through the narrow tunnels.
Our tour guide Harry then led us along winding passageways through a short section of Nottingham's network of sandstone caves. We heard stories of how the caves were used in bygone days and paused to view remnants of slum dwellings and public house cellars. Sitting on benches in a disused Anderson shelter just as local people had done to seek refuge during Second World War air raids, we examined gas masks, wartime toys and games that kept people occupied during those terrifying times.
Our guide then demonstrated the primitive methods used for producing leather in a medieval tannery before leading us back up the steps to the exit.  Before planning our visit to Nottingham I'd never realised that the city had such a large network of caves and it was very interesting to discover a hidden world beneath our feet on this tour.
Leaving the caves, it was just a five minute walk along to the National Justice Museum on High Pavement.  This museum is located in Nottingham's old Georgian courthouse and county gaol, the steps of which were the site of many public executions.  Admission to certain parts of the museum are free, with full access tickets costing £10.95 or £16 for a combination ticket with the caves which we had just visited.  Visitors are asked to wear wristbands labelled with a convict's number which can be searched for in one of the galleries to find out your crime and length of sentence.
Wandering around the building we came across several historical characters, each of whom had their own story to tell based on their experiences of law, justice, crime and punishment.  Stood outside the prison cells was one of the museum characters, Elizabeth Fry who was a 19th century prison reformist who became so famous that she ended up featured on our £5 notes.  The character posing as her explained the appalling conditions Fry witnessed in prisons across the country and of the numerous changes that she introduced to improve prisoners' lives.
Exploring the Crime gallery was thought provoking as it posed questions such as 'what is crime' and 'what causes people to commit crime' and also focused on protests, riots, terrorism, murder and robbery.
A mock trial takes place twice daily in the oak panelled Victorian courtroom and not wanting to miss out we made sure we were seated before proceedings began.  A character portraying a barrister gave us some quirky facts about the Victorian courtroom where trials were still held as recently as 1986.  He then invited members of the audience to act as a judge and four witnesses and these willing volunteers were then each given laminated narrative sheets with their own parts highlighted.  With everyone in place, the accused was called into the dock, a highway woman called Joan Phillips and the trial got underway taking around 20 minutes.  I thought this mock trial with audience participation was extremely well thought out and suitable for all ages.
After the trial had finished we went for a coffee but returned to the museum at 3.30 p.m. to take the Tales of Truth and Legend tour which lasts one hour and is included in the ticket price.  This tour began outside the building looking at the splendid Georgian architecture before moving into the grand entrance hall with its arched ceiling and heraldry shields adorning the walls.
The tour then takes visitors through some areas of the museum not normally open to the public passing along dark, dimly lit tunnels and into sandstone caves.  It was down one of these that our guide unlocked a heavy door leading to the sheriff's dungeon.  Stepping inside, she explained that it was in this dark pit that folklore suggests the famous Nottingham outlaw Robin Hood was once held and tortured.
Our tour continued along more narrow passageways and dark tunnels where we viewed a series of gruesome torture artefacts including stocks and pillories into which offenders would be strapped between planks of wood.  These punishments for minor offences would usually take place at noon in the town square on busy market days so that as many people as possible could watch the punishment taking place.
There were still more gruesome things in store, as we were taken to see a trap door through which prisoners were thrown down and left to starve.  This was known as an Oubliette which is French for 'to forget'.  Last, but not least, the macabre tour led us out to Felon's Yard where we inspected the last working gallows in Britain.  This had been used at Wandsworth Prison in London and tested on a regular basis until the early 1990's.  Until then, the death penalty remained a theoretical possibility for certain crimes.  Seeing the hangman's noose hanging from the gallows and being able to stand on the trap door above what would have been a 3.6 m (12ft) fatal drop wasn't for the faint hearted but it reminded us of how times have changed.
This concluded our Tales of Truth and Justice tour.  What a time we had, there's so much to experience at the National Justice Museum what with mock court cases, tours and more.  We spent several hours there viewing its Victorian courtroom, gaol and police station – an historic building where an individual could be arrested, sentenced and even executed.  Do try and go if you plan to visit Nottingham as it's one of the best museums I've visited and is excellent value for money.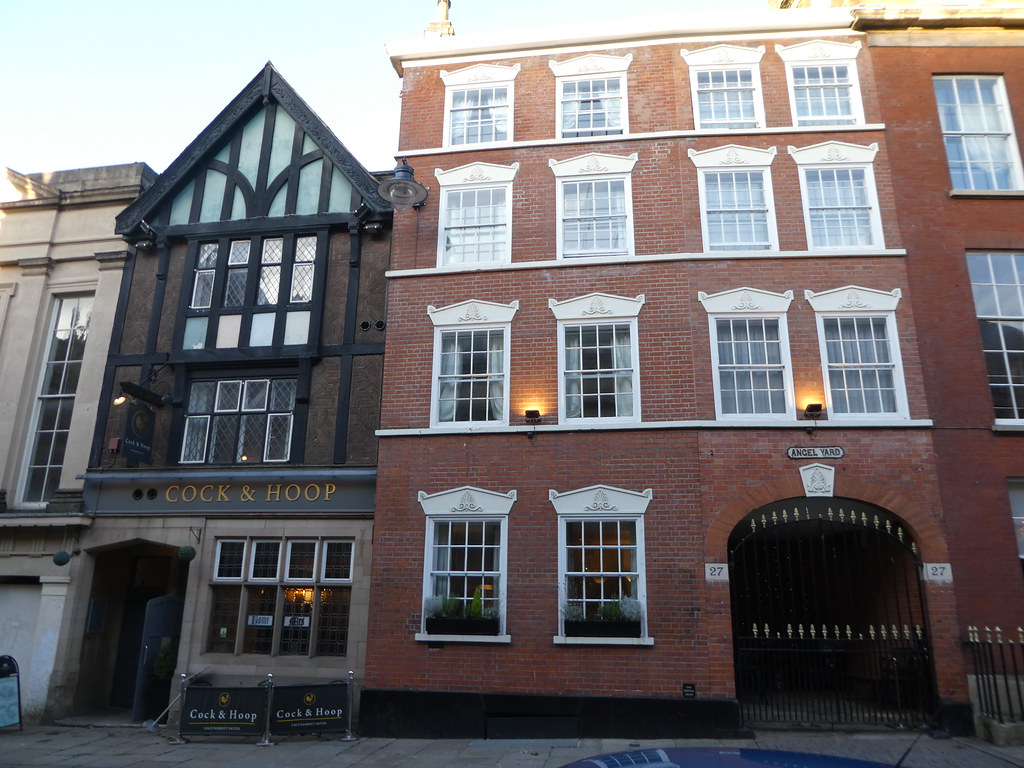 Leaving the museum, we felt ready to eat and where better to go for a meal than the Cock and Hoop directly opposite.  This traditional Victorian ale house is located in a period building that was once a pub with rooms for an audience to watch the hangings on the steps of the courtroom opposite, apparently a popular activity at the time.
Nowadays the Cock and Hoop is an AA rosette gastro pub serving real ales.  Diners can either eat in the cosy ground floor snug or in the downstairs dining room which we opted for.
From the menu I selected the grilled lamb rump served with creamy mashed potato, courgettes and tomatoes which was served pink, just to my liking.  Across the table my son ordered the Cock and Hoop fish and chips which were lightly battered in pale ale with pease pudding and thickly cut chips.
We couldn't resist ordering a dessert and we were both delighted with choices of sticky date pudding with butterscotch sauce and chocolate brownie with sorbet.
Just after we left the pub and were walking down High Pavement we noticed a branch of Pitcher & Piano located in a former Unitarian church.  Fancying a nightcap, we wandered inside and were so glad that we did as it's a beautifully restored church complete with vaulted ceilings, stained glass windows and original stonework.
The deconsecrated church has been converted into different levels with glass walkways and spiral staircases with a feature island bar running down the middle. We found some comfortable chairs in one of the cosy alcoves and rounded off our evening sipping cocktails.
If you have enjoyed reading this post you may also be interested in:
Other posts in this series:
Similar posts:
Nottingham University and Arboretum