There had been more snow overnight but it was a reasonably bright morning. Our first stop after breakfast was Lubyanka, which is the next station on Line 1 from Red Square.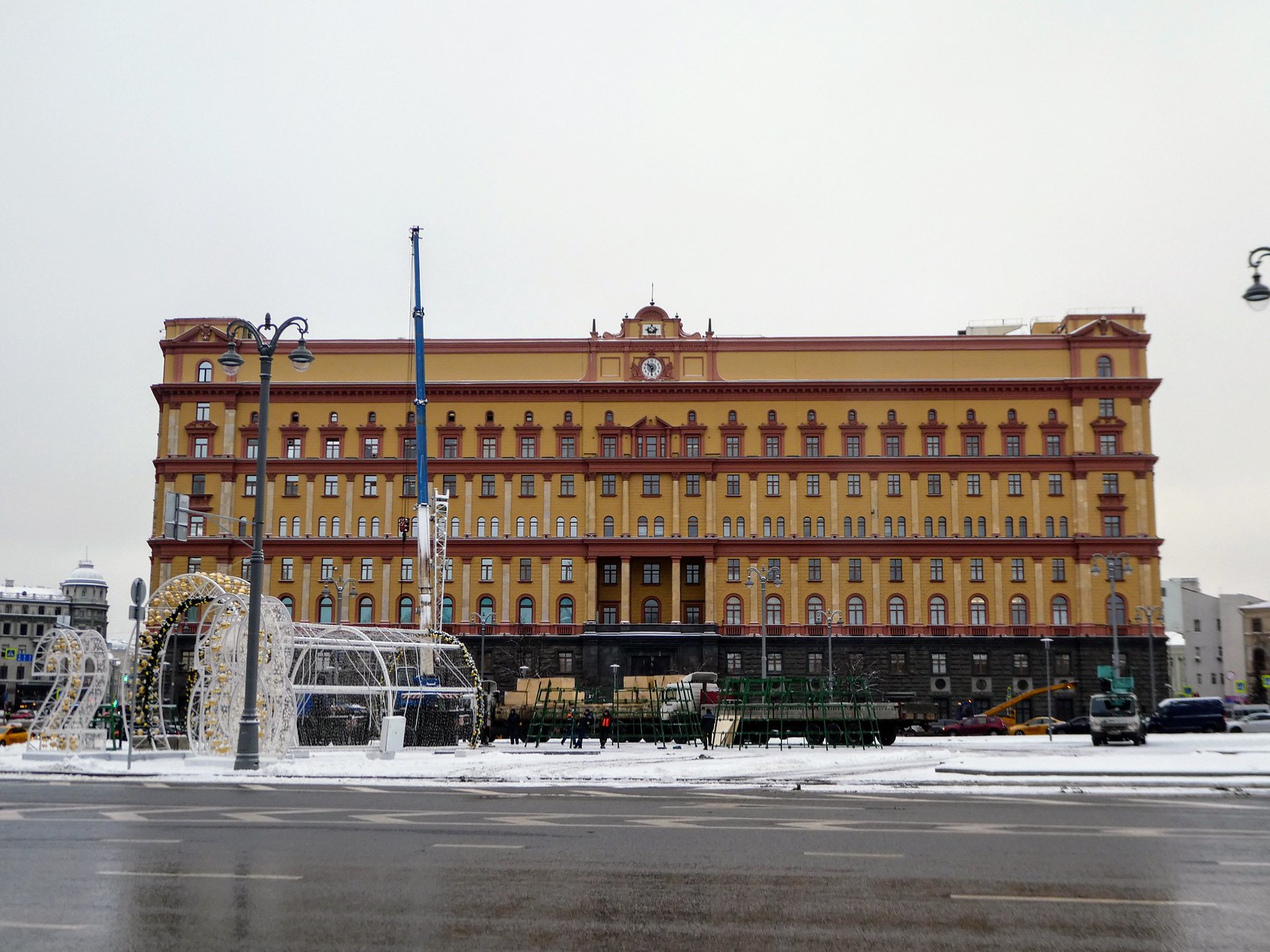 Climbing the steps from the metro station we could see the former headquarters of the KGB across the square. Lubyanka was once a name associated with violence and torture but times have changed and it is now an affluent district filled with luxury shops. Just off Lubyanka Square we strolled through a stone archway onto Tretyakovsky Passage, the only street in Moscow to be built from private funds. Since 2000 it has been one of the most expensive shopping streets in the world with Bentley and Ferrari showrooms alongside Prada, Armani, Gucci and numerous other designer stores.
Our morning stroll continued through this affluent area towards Red Square passing the Bolshoi theatre, a statue of Karl Marx and the beautiful Government of Moscow building, home of the Moscow mayor.
A little further along Tverskaya Street we popped into the elaborate Eliseevsky grocers. Entering the shop is like walking into a museum with its awe inspiring neo-classical architecture and sumptuous decorations.
Cakes, pastries, hand made chocolates, caviar and many other Russian delicacies are on offer and surprisingly its prices are only slightly higher than regular supermarkets.
On reaching Pushkinskaya Square we paused to admire the huge statue of the celebrated poet Alexander Pushkin before taking the metro to Smolenskaya station so that we could explore Arbat Street. This cobbled, pedestrianised street retains buildings reminiscent of its elegant past. The 1 km street has existed since the 15th century, making it one of the oldest surviving streets in Moscow.
Originally the street formed part of a trade route and was home to a large number of craftsmen. Nowadays it's mostly a collection of restaurants and gift shops aimed at tourists but still a very pleasant place for a stroll and to stop for morning coffee.
The pedestrianised street opens up into Arbat Square where we found the Ministry of Defence and the chapel of St. Boris and St. Gleb. This church was built in 1997 to replace a similar church which was destroyed 70 years earlier.
We caught the metro from the Arbatskaya station featuring a high vaulted ceiling which is elaborately decorated with ornamental brackets, floral mosaics and chandeliers. Our next stop was at Partizanskaya station in the north east of the city to visit the Izmailovsky district. Partizanskaya is yet another beautiful station with its platform walls and pillars faced with white marble.
The Izmailovsky cultural centre and market are a ten minute walk from the metro station. It was a little confusing to locate. To get there we needed to cross the road outside the station, walk under an archway and continue past a large hotel on our left before seeing the complex in the distance.
Modelled on traditional Russian architecture these buildings were only completed in 2007. The complex houses several small niche museums focusing on such things as vodka and bread. Popular with tourists is the vast Izmailovsky open-air market selling souvenirs and traditional handicrafts.
Only a few stalls were open during our December visit as not many people were around but I can imagine it to be crowded during the summer months. We found decorative eggs, lacquered boxes, wooden nesting dolls and fur hats amongst other trinkets and souvenirs to take home as souvenirs of a visit to Russia.
We then returned to our hotel to warm up with a relaxing sauna and to take a rest before setting off out once again in the sub zero temperatures for our evening meal. Instead of returning to the city centre we opted instead to spend the evening near our hotel in Sokolniki. Our evening stroll took us to Sokolniki Park, a ten minute walk from the hotel.
Brightly illuminated entrance gates welcomed us into the park where we found some little wooden huts selling snacks and hot drinks. We continued to Festival Square which, during the winter months, is home to a 5,600 m2 ice rink. There were people of all ages enjoying the ice, circling the rink to the sounds of festive music such as 'Frosty the Snowman' and 'Santa Claus is coming to town'.
Overlooking the ice rink we spotted an Italian trattoria which looked inviting with its traditional red and white checked tablecloths exuding a cosy atmosphere. We wandered in and managed to get one of the remaining tables. Our two course meal was delicious and it was lovely to be able to watch the skating from its large windows.
All the other diners appeared to be local, enjoying an evening out. Children coming in with their skates shared pizzas with their families, and a boy at the next table was finishing his homework whilst tucking into a slice of tiramisu. It was lovely to observe local life and to find this cosy restaurant for dinner despite not sampling Russian delicacies.
Leaving the restaurant, the ice rink was empty as it was being prepared for the final session of the evening. It was bitterly cold walking back towards the hotel so we gathered around one of the park's steel braziers warming our hands on the burning logs for a few minutes.
Back in the hotel we caught up on the news, made a cup of tea and were soon off to sleep after another fun filled day in snowy Moscow.
If you have enjoyed reading this post you may also like: